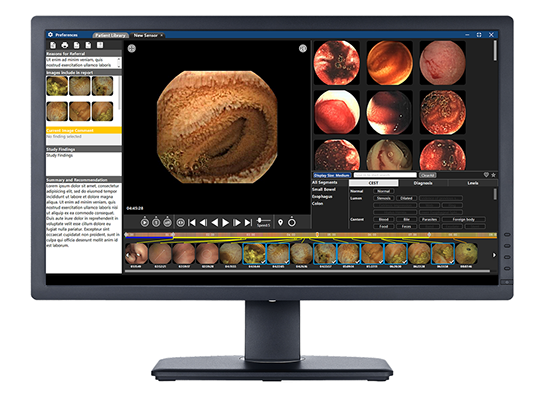 Multi-case Study
You can switch between up to four cases at the same time simply by clicking between tabs.
Play Control
Speed control and enhancement tools are placed in one place for your convenience. Use hotkeys to quickly access functions without clicking.
Play Mode
Bleeding Detection: quickly identify any images with suspected bleeding.
Quick View: skim through images and skipping similar images to find area of interest in short time.
Atlas
Atlas now support column and keyword filtering to allow faster comparison. You can even import customized atlas image for teaching purposes.
Multi-column View
Utilized your wide-screen display. You now can review image sequence, compare atlas and write report in the same window.
Landmark and Resume
You can easily set customized landmarks. You can also resume from where you've stopped last time.
Report
Write report, type in findings and select images as you progress in the study. When you're done, click the preview or print to finish the work.
Image Enhancement
ICE RGB Mode separates different RGB spectrums, gives you a more detailed view for mucosa and capillaries.
SGIB Mode enhance images to easily spot areas with suspected bleeding.