Introduction
Multi-segmental contruction sandwich mesh allows complete flexibility and conformity with a gastric sleeve anatomy. The upper edge is slightly curved inwards while the lower edge is completely round to reduce trauma to the esophagus and duodenal bulb respectively. The distal edge of Gastroseal stent is rounded to reduce trauma to the duodenal bulb or antrum.
Indications for use (Intended use)
The device is indicated for palliative treatment of esophageal malignant and/or benign stricture and trachea-esophageal fistula.
Product Overview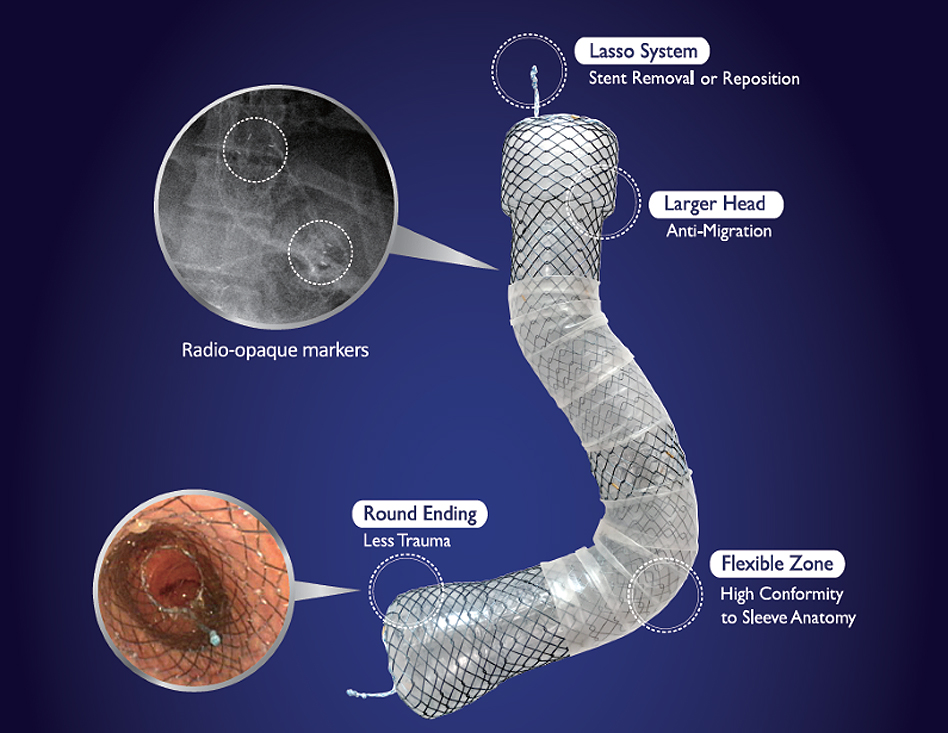 Resources
ORDERING INFO.
Stent(mm), Delivery Device
Stent(mm)
Delivery Device
Diameter
Usable Length
Total Length
Length(mm)
Diameter(mm/fr)
ECBS-26-180-090
36-26-34
130
180
900
8/24
ECBS-26-210-090
160
210
900
8/24
ECBS-26-240-090
190
240
900
8/24
RESOURCES
Gastro SealTM Stent Marketing Brochure
※Sizing and availability varies by country
All medical devices have associated risks. Please refer to the package insert and other labeling for a complete list of indications, contraindications, precautions and warnings. For further information on the Products, please contact your local M.I.Tech(Hanarostent) Representative.